We have discussed about half of the Pantone color palette for Summer 2013 (below). This is the palette;
Pantone colors for summer 2013
We already discussed; Lemon Zest (Pantone 13-0756), Tender Shoots (Pantone 14-0446), Dusk Blue (Pantone 16-4120), Emerald (Pantone 17-5641) and Grayed Jade (Pantone 14-6011).
Today let's discuss; African Violet (pantone 16-3520), Monaco Blue (Pantone 19-3964), Nectarine (Pantone 16-1360), Poppy Red (Pantone 17-1664) and, last but not least, Linen (Pantone 12-1008).
African Violet:
Purples are a forgotten color group in many people's homes and closets. African violet can be used this summer in many areas, from carrying a tote with violet in it to wearing a headband or scarf with accents within in or wearing earrings that include it, like in these
enamel sterling silver and fine silver earrings with organic finish
.
Monaco Blue:
I am partial to the name of this color (although I have always been partial to the color itself) as it's my maternal grandmother's maiden name. :)
The rich cobalt-ish blue is very saturated with intense color but will still be useful for summer. Try sunglasses with monaco blue frames, fun flip flops or
enamel fine silver and sterling silver "vessel" earrings which pack a punch of color within their 8mm centers
!
Nectarine Orange:
Orange is a wonderful color for summer! Bright and cheerful, it's bound to make even dreary days fun.
Many people avoid oranges, though, either because they aren't sure which oranges will look good with their
skin tone
or because they fear using too much color. Even heavily saturated colors, like nectarine orange, can be used by everyone. Start in small ways, like wearing some capris with an orange print or striping or a pair of
handmade enamel orange and denim blue earrings
like these. Even small accents can bring color into your wardrobe!
Poppy Red:
Reds are terrific for most seasons but, during the summer, they are even easier to wear!
Lipstick is the natural choice for red, make sure to try a cool lipstick: bottom (with a blue base) and a warm lipstick: top (with a yellow base) at the store before doling out the money on one that might not look good on you. Another site for finding out your skin tone (warm or cool) is
She Knows; Beauty and Style
. The image, to the right, is also from that website and shows good examples of warm red lipstick versus cool red lipstick.
Red can also be used in accessories, of course; red pumps or slings or summer... red clutches or totes or red pieces of jewelry, to bring red into your ensemble in a smaller (more personal) way.
This is a
faceted Mount Saint Helen's "stone" set into a sterling silver handmade and hand textured / hammered ring with a square shank
. One of a kind and perfect for summer attire (or any season, for that matter).
For more of my red items please
click here
.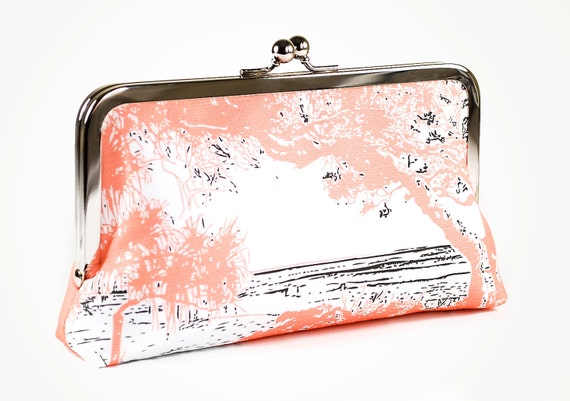 Last, but definitely not least, we have
Linen
!
Linen is a subdued, delicate color that almost anyone will feel comfortable tying into their summer outfits, or home! This light peachy-pink will be easy to accent (as a main color) or to use as an accent for other colors.
This
clutch
is a prime example of how Linen can be used any day, any time!
Those are all of the summer 2013 Pantone colors, in a nut shell, with various ways they can be used and worn. I hope that you have enjoyed this summer sneak peak, thank you for reading!